OLLI-UO in Eugene/Springfield 2019 News and Updates Archive
An archive of OLLI-UO in Eugene/Springfield 2019 news and updates is listed below. Current announcements can be found on the News and Updates page.
---
OLLI-UO E/S Members Gather for Winter Holiday Celebration
A record number of members attended the recent holiday gathering of the Osher Lifelong Learning Institute at the UO in Eugene/Springfield. Phyllis Villec provided piano music while about 80 attendees enjoyed enhanced appetizers before master of ceremonies Howard Shuman opened the meeting.
Antonia Lewis and Cecelia Perry sang the traditional "Santa Lucia" in Swedish. The song welcomes Santa Lucia on December 13 to chase away the dark and bring back the light. Antonia channeled the saint in a white smock with red sash and a crown of (LED) lights. Susan Walcott, immediate past president of the OLLI-UO governing council, received the Earl Hain award for her many contributions to our organization. Hannelore Burnstein represented the Membership Committee and its Chair, Julie Jessal (who was in Australia), in presenting the award. The Committee and its hospitality group spearheaded arrangements for the gathering.
Other awards included "Captain Kazoo" to Terry Brown, who led the kazoo group in the OLLI-UO entry of the Eugene parade; "The Doctor Is In" to Bill Tagliaferra for "political therapy in troubling times"; "Celebrity Chef" to Kate Nelson for orchestrating "A Taste of OLLI-UO"; "Freeze the Moment" to Gordon Nagai for his skilled photographic work; and "History of Us" to Livvie Taylor-Young and Kirk Taylor for their production of the popular lecture series History in Context.
Member Avi Naiman performed a stand-up comedy routine spoofing the major holidays (or hokidays), Thanksgiving, Hannukah, Christmas, New Year, and End of Duck Football Season – amid considerable groaning.
Cecelia Perry and Randall Donohue led the audience in a singing an original song with lyrics by Avi Naiman, "My Fav-OLLI Things," followed by traditional songs, Deck the Halls, Silent Night, O Christmas Tree, and Jingle Bells. Howard closed the meeting and encouraged everyone to come back for next year's winter gathering.
December 17, 2019
---
President's Note: December 2019
Building membership is one of the key strategies in the sustainability plan for OLLI-UO in Eugene/Springfield, and our current members are perhaps the most valuable resource in growing our membership. This was amply demonstrated with the A Taste of OLLI-UO program in October, when more than 100 members and their guests attended a morning sampler event at the Baker Downtown Center. It was highly successful and resulted in an immediate growth in new members. Thank you to all members who brought guests. Another A Taste of OLLI-UO is planned for Spring 2020.
OLLI-UO E/S is fortunate to have among its members knowledgeable and talented speakers.  We recently benefited from program series by four of our most accomplished presenters: Livvie Taylor-Young and Kurt Taylor presenting History in Context, Helene-Carol Brown presenting Masters of the Italian Renaissance, and David Kolb presenting Can Science Fiction Help Us Talk Across the Political Divide?  Each of these individuals has presented numerous programs for us in the past and we recognize their continuing contributions to OLLI-UO programming.
The Osher Foundation reconfirmed its support for OLLI-UO this fall with the awarding of a third Capacity Grant. The successful grant application was the result of hard work by our program staff: Laura Abbott, Todd Gauthier, Sandra Gladney, and Heather Inghram. This grant builds on the OLLI-UO Financial Sustainability Plan, authored by Suzanne Butterfield, CO Council President; Susan Walcott, past E/S Council President; and Sandra Gladney, OLLI-UO Program Director.
This is the time of year for good cheer and friendship. Don't forget to register and come to the E/S Winter Holiday Celebration on December 12 at the Baker Downtown Center and join in the festivities with your fellow OLLI members. Best Holiday Wishes to All.
Stephen Koller
President, E/S Governing Council
November 22, 2019
---
Historic Downtown Eugene Walking Tour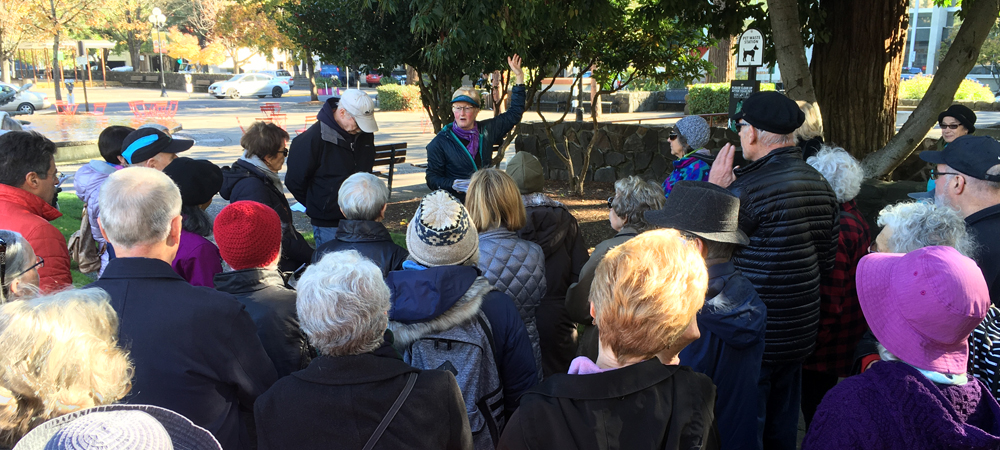 About 50 OLLI-UO students enjoyed the beautiful fall weather and learned about landmark buildings during a walking tour Friday, November 1, of historic downtown Eugene. Tyler Burgess (Walk-With-Me.com) was the tour guide.
After leaving the Baker Downtown Center, the group walked to 10th and Oak St. to view a photographic mural of early Eugene in the lobby of Key Bank. The photograph was shot from Skinner Butte about 1841, she said, whereas the Willamette St. trolley wasn't electrified yet and would have been drawn by a mule. Other significant landmarks in the photo included the first two buildings of the University of Oregon. The Key Bank building, Burgess noted, was built in the Brutalist architectural style of the mid-20th century, similar to the J. Edgar Hoover FBI Building in Washington DC in its angular aspect and concrete construction.
At the Park Blocks, Burgess pointed out trees where local farmers hitched their wagons to sell produce at early farmers' markets. From that vantage point, the group could view what is left of the historic Astor building, parts of which were incorporated into a more recent glass and steel construction. Burgess blames the urban renewal efforts of the 1960s and '70s for the loss of significant historic sites downtown. "Urban renewal devastated local charm," Burgess said. She cites Independence and Corvallis as two examples of intact early architecture.
The group continued on to Willamette St., where the Baker Hotel stands as an example of the typical red brick construction of early downtown Eugene. Burgess pointed out steel plates on the exterior wall of that building that connected to interior cables used to bolster the pre-steel construction.
At the intersection of Willamette and 10th, the group viewed the Downtown Athletic Center, which had been a department store; the MacDonald Theatre, which began as a movie theatre; and the Schaefer building, an intact brick structure and example of Art Deco architecture that once was home to a bowling alley. Nearby are the preserved storefront signs of Newberry's and Woolworth's.
Burgess moved to Eugene in 1994 after visiting her son, who then was a second-year graduate student at the U of O. In 2003, she founded Walk With Me and began teaching various fitness walking classes at Lane Community College and the U of O. In 2003 she conducted her first walking tour, of England, with 12 women. Since then she has guided 34 walking tours in 10 different countries. Although she no longer gives these tours, she continues to "walk, cycle, and sketch the world."
Burgess outlines "townscape walks" in books not only about Eugene and Springfield, but also Portland and other Oregon cities; Seattle; the south California coast; Siena, Italy; and Quito, Ecuador. These walks take into account the "line of life" (why is this city here?); "the grandiose vista"; the "mystery of the emerging view" (what is around the corner, over the hill, down the path?); "the silhouette"; and "seeing in detail" (places that create seclusion or invite social activity). Her books and calendars are available at Walk-With-Me.com.
November 4, 2019
---
President's Note: November 2019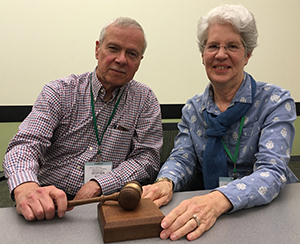 It is with humility and a touch of pride that I present my first message as OLLI-UO in E/S Governing Council President. First, I extend my appreciation to outgoing Council President Susan Walcott for her leadership and dedication during the past two years, much to the benefit of our program site. 
At the recent Annual General Meeting, we elected the 2020 members of the Governing Council, including two new members. Let's meet our new Council members:
Elaine De Martin-Webster is co-facilitator of our French Language group. In addition, she is actively involved in several community cultural organizations, including the Jordon Schnitzer Museum and Oregon Mozart Players. Elaine joined OLLI-UO 10 years ago. She would like to help OLLI find ways to give more scholarships and opportunities to people with the life experience to effectuate change.
Dr. Tagi Sagafi-nejad is an Emeritus Professor of International Business from Loyola University, Maryland. Tagi was born in a remote village of Eastern Iran. He earned his MA and PhD from the University of Pennsylvania and has taught at several universities including Penn, University of Washington, Loyola University Maryland, University of Texas, Austin, and Texas A&M International University. Tagi and his wife, Nancy, are relatively new members of OLLI-UO.
Presentations at the Annual General Meeting at the end of September reinforced the strength and positive direction of OLLI-UO. Our sustainability continues to grow, the Osher Foundation has acknowledged our success with a third capacity grant, and our membership reaches record numbers. I look forward  to my work with the Governing Council in the coming year.
Stephen Koller, Eugene/Springfield Council President
October 29, 2019
---
Members Learn Strategies for Lively Discussions and Effective Facilitation
How does focused discussion help us learn as well as build community and belonging in our discussion groups? A group of OLLI-UO/ES members learned advice and techniques for making the most of presentations and discussions in a recent special presentation by the UO Teaching Engagement Program.
Appropriate active involvement in discussion groups helps us learn nine key dispositions, according to presenter Jason Schreiner: hospitality, participation, mindfulness, humility, mutuality (mutual caring for others' self-development as one's own), deliberation, appreciation, hope, and autonomy or courage to take a stand.
To encourage appropriate involvement, the group should have a set of ground rules, either determined by the group or presented by the facilitator for possible feedback. Possible ground rules might include discussing to learn, mindful listening, listening leniency, and "stepping up/stepping back" or monitoring our own participation to see if more or less participation would be helpful.
In addition, a participant might wish to seek clarification or offer supporting evidence on a certain point. Further, participants might need to remember to focus on ideas, not individuals, and to understand that complex issues are not simple. The goal is to find ways to inquire and work together to advance inquiry and understanding.
Effective group facilitators might follow these suggested guidelines:
Be prepared
Set the stage by stating goals and expectations
Explain the facilitator's role, such as keeping the discussion focused and energized
Establish community expectations, such as the ground rules listed above
Focus the discussion
Check yourself to avoid being on a soapbox or being the "expert"
Be a gatekeeper and guide: keep participants focused and moving forward, pausing occasionally to recap or pause for reflection
Encourage equity in participation
Wrap up
The presenter provided some Socratic questioning prompts to aid in clarification or to stimulate deliberation/discussion of the initial question or issue. Other prompts he provided were intended to probe assumptions, reasons and evidence, origin or source questions, implications and consequences, or viewpoints and consequences.
Schreiner employed some of his suggested techniques by having participants break out into groups to brainstorm what makes an effective discussion and what makes an ineffective discussion. Afterward, the groups came back together and shared ideas.
October 11, 2019
---
OLLI-UO Earns Eugene Parade Award
A group of Osher Lifelong Learning Institute at the University of Oregon volunteers braved the rain on Sunday, September 22, to march in the Eugene Parade, earning a first-place award for "Best In-Step/Best Marching."
Leading the group of volunteers were banner carriers Andy and Susan Walcott, followed by Ilene O'Malley, Gayle Semrad, Judy Johnston, and Julie Jessal with yellow and green pompoms and flags. Choreography was provided by Bill and Joy Taliaferro, Steve and Catherine Koller, Kathleen Bauder, and Jane Souzon. The group wore yellow and green mortar boards and over-sized, horn-rimmed glasses to underscore our learning mission, and carried prop books with titles such as Philosophy, Arts and Sciences, and Current Events. Periodically, they would twirl in place to display the book titles. Terry Brown set the pace with her kazoo renditions of "When I'm 64."
Antonia Lewis, Hannelore Burnstein, Gayle Semrad, Julie Jessal, and program manager Todd Gauthier managed the OLLI-UO information booth during the Sunday Streets celebration that followed, sharing information about the program with many interested members of the community. Gordon Nagai chronicled the event with his ever-ready cameras.
October 7, 2019
---
Member-volunteers reach out at the Blackberry bRamble
Ten OLLI-UO E/S members took advantage of an opportunity to both support the region's bicycling community and promote our own community of learners at the recent Blackberry bRamble.
They joined other volunteers from Greater Eugene Area Riders (GEARS) at the Camas Country Bakery, where they provided sustenance for about 350 riders on the last segment of the various courses. Riders could choose among four routes, encompassing 37, 64, 82, or 117 miles. Riders came from all parts of Oregon to participate.
Afterward, the event promoters said cyclists applauded the Camas stop for its bountiful and cycling-appropriate snacks, which included pickles, potato chips, bananas (some stuffed with a cocoa/hazelnut spread), trail mix, watermelon, and many gallons of replenishing water. The two biggest hits were watermelon and tasty cookies donated by Camas bakery. Pickles and pickle juice (for the salt) were also in high demand. OLLI volunteers also built dozens of sandwiches for anyone needing more of a boost.
OLLI volunteers included Julie Jessal (team leader), Judy Johnston, Kate Nelson, Jim Ruderman, Gayle Semrad, Jackie Stokes, Carolyn Vike, and Susan Walcott. Valerie Rosenberg, co-chair of the bRamble this year, and her husband Max, both OLLI-UO members, wore two hats in the event, as representatives of OLLI and GEARS.
The event also was an opportunity to promote OLLI. Volunteers staffed a booth equipped with OLLI-UO literature, and Julie Jessal took advantage of group photo sessions to inform riders of the benefits of membership in our learning community. OLLI volunteers said the event was a fun opportunity to meet people and encouraged members to think of ways we can reach out to help other groups as well as increase our profile in Eugene and Springfield.
October 7, 2019
---
President's Note: October 2019
Since this is my final Note as President of the OLLI-UO in Eugene-Springfield Governing Council, a quick review is in order along with sincere thanks for the privilege of serving as your President for the last two (yes, it's been that long) years. This was a time of important transitions for OLLI-UO, beginning with organizational changes at the university that resulted in a large annual bill for us. A new Financial Sustainability Plan was the result. New administrators included Roger Thompson (who spoke with us twice) heading the (re-named) Continuing and Professional Education, Sandra Gladney as our Executive Director, and Todd Gauthier as our new Program Manager. Suzanne Butterfield became President of our sibling site in Central Oregon, and we have all worked together exceedingly well ever since.
Changes more visible to the members in this time period include opening the Patagonia Room as a lounge/meeting area, adding Shared Interest Groups as a member feature, moving from paper to the online Information Hub plus weekly upcoming event notices. Speaking of . . . major events included our Silver Anniversary year celebrations, the Silver Showcase anthology book, "Deck the Walls" artwork display, and participation in events like the Eugene Parade. Less visible to members are new program outreach to retirement centers, the leadership and discussion training with UO, the Governor's Council meeting hosted by OLLI-UO, a conference with other Oregon lifelong learning organizations, and related network building. Programs continue strong and vibrant, including two (Avi and Nathan's presentation and the Silver Showcase anthology project) that were featured in the national Osher newsletter. In short, fellow lifelong learners, the State of our Organization remains strong. Onward!
Susan Walcott, Eugene/Springfield Council President
September 18, 2019
---
President's Note: September 2019
Volunteers are the lifeblood of many organizations, particularly those composed largely of a retirement-age membership such as "50 and above" OLLI. This "Note" will appear on our Info Hub in early September, the month of the annual General Membership Meeting. The opportunity remains for any member to nominate themselves or another member (with their advance permission!) for Governing Council participation. Current GC members are listed on the Hub under the Contacts tab, so see us and/or Nominating Committee head past-president Randall Donohue about what that involves. Want more of a voice in your favorite lifelong learning organization?
Since it is "Back to School" month, here is a by-the-numbers picture of some national OLLI benchmarking data to mentally compare to our OLLI UO: 2/3rds female, 91% white, 91% college degree (U.S. average 30%), 94% with a laptop computer, 85% have a smart phone, 68% with Shared Interest Groups, average membership 1,222 (we are 700+), and 204 volunteers. Wow!
According to the latest 2019 census update on occupations by percent of total employment, Eugene compared to Salem and Portland has fewer employees in business and financial categories and protective service, more in community and social services and the sciences, sales and office support, repair, and transportation/material moving. So how do you fit into this picture of your town and your OLLI?
See you at Annual Meeting!
Susan Walcott, Eugene/Springfield Council President
August 19, 2019
---
Shared Interest Groups—Summer 2019 Update
If you haven't yet joined a Shared Interest Group (SIG) at OLLI-UO, I invite you to do so this summer! SIGs are a great way for OLLI-UO members to continue lifelong learning beyond the classroom. These groups provide new opportunities to form friendships with other members around shared interests. SIGs are independent and self-directed, with members deciding where and when to meet and how the group will function.
To view a list of current SIGs and their descriptions, visit the SIG page on the E/S Information Hub.
As a special note, Knowing the World through Mathematics is the newest addition to the OLLI-UO SIG family, having launched in late July. Contact facilitator Mike Rose for more information.
Do you have an idea for a new SIG? Complete a Proposal Form online. Are you interested in serving as our SIG Coordinator, working with our SIG facilitators to keep the program running smoothly and to lead the effort in assessing and preparing SIGs for launch? If so, please contact me at osher@uoregon.edu to learn more.
Thank you for your participation in OLLI-UO. I hope you find (or propose) a SIG that's right for you!
Best regards,
Todd Gauthier
Program Manager
OLLI-UO in Eugene-Springfield
August 8, 2019
---
President's Note: July 2019
Do you remember when you used to say: "When I retire, I'll have time to . . . ?" Newsflash: many of us who are retired from a former paying job are still saying that! Except we tend to be more able to choose our tasks and time we spend doing them. There might, for example, be time for a ("what was I thinking?!") leadership or enhanced engagement position in an organization, what I think of as "paying it forward" or paying it back if you've been enjoying going along for the ride up to the point where you begin to think "hey, I could do that and it might be interesting." Or there is a change you'd really like to see happen and consider making it happen by doing something about that. Which is in part a way of signaling that the OLLI Nominating Committee will soon be forming and looking for folks to replace the 50% of regular annual turnover in positions.
Speaking of turning over new leaves, yours truly not only just finished the book I've long thought of writing after tenure & promotion were no longer a consideration, but also about to finish the second book in a year with a longtime friend as co-author – this time on tea. Another adventure about to begin is leaving for Sweden for youngest child's wedding (who is no longer a child, with one of her own). Other learning experience: finally getting around to doing an ancestry program and finding out that a lot of those olde family tales about ancestors were actually true, and then some more interesting bits! I can encourage anyone remotely curious about their own progenitors to give it a try; if nothing else it will provide some stories for siblings and descendants.
So enjoy your summer, whether it means more relaxing or busier pursuits, keep tuned in to OLLI events, and come back refreshed in the Fall with your own stories to share.
Susan Walcott, Eugene/Springfield Council President
June 21, 2019
---
President's Note June 2019
Spring is sprung, with high spirits from the newly dominant sunny weather ebullient tailwinds from our fantastic Silver Anniversary Gala. Costs were kept low (but quality high!) with donations and volunteer services, leading to a sold-out attendance. Why not share the fun with other friends–invite someone(s) to a program or give them a "Share the Love" free for a month card available in the CPE Office.
Summer is a-comin' in, with its travel and relaxation time. Shared Interest Groups are going strong, but a new Coordinator is needed to keep the organization coherent–volunteer? Great work done by a "founding father" who wants to pass the baton. Yes, OLLI-UO is a member-driven organization, so consider what you might want to recommend, start, attend, and/or supervise of our operations.
Just finished a fantastic month with "Beowulf" thanks to Insight Seminars (a sibling program to OLLI-UO) leader and Beowulf Sage Jim Earl. Terrific way to spend a month of Saturday mornings, if not at Saturday Market. In-between publishing one book and finishing final chapters of another (on home-grown tea, with former NC colleague) yours truly joined many of you with a dip into ancestry.com family trees (what a forest!) and DNA discoveries. Lifelong Learning indeed. So, to paraphrase PNW's own travel fanatic Rick Steves: "Keep Travelin' and attending OLLI-UO!"
Susan Walcott, Eugene/Springfield Council President
May 16, 2019
---
President's Note May 2019
"Program, Program, Program" for OLLI-UO is like the "what is important in real estate" answer ("location . . ."). As a member of a volunteer organization, you can propose a speaker or volunteer to present a program at any time. Your Program Committee is always looking for suggestions! The form "Teach for OLLI-UO" is on our webpage, indicating what needs to be filled out so the Program Committee can consider it at their monthly meeting. Those ordinary-looking folks next to you at a lecture or discussion group probably had an amazing career – talk with them and see what we can learn from each other. Presentations come in the form of a single talk, or a whole series.
If you attend a lecture presentation at the University of Oregon and find the speaker and topic fascinating, consider introducing yourself as an OLLI-UO member and see if the presenter might be willing to do the talk for us as a whole. We've had many fascinating programs that way – or a neighbor of yours who had experiences that they are willing to share as an educational learning experience. Program Committee would like to hear about any of these possibilities.
Topics you'd like to have us cover, or series such as "Great Decisions" you'd like to see offered, are also items we'd like to hear from you about. You don't have to serve on a particular committee to have an impact – just write ideas down and drop in the Program box, or leave a suggestion online, or speak to someone with a "Program" card in their nametag.
As the Chinese sage purportedly said: "Let a hundred flowers bloom . . ." so cultivate new ideas blossoming this Spring.
Susan Walcott, Eugene/Springfield Council President
April 25, 2019
---
President's Note April 2019
"in Just-spring when the world is mud-luscious . . ." we put winter's "snowmageddon" behind us in preparation for Maypole dancing season, and anticipate celebrating the final marking of OLLI-UO's silver anniversary at a feel-good Gala mid-month. Thanks to the organizing genius of Pam McClure Johnston and her enthusiastic committee, volunteers are poised to lead other members in an exciting OLLI-type show of who we are and what we're about. UO's Ford Alumni Center is the venue, an outstanding scientist is our speaker, our UO administrative supervisors have requested to attend. A wave of invitations to members current and past have gone out. Timing (lunch) and eating (buffet) keep cost reasonable, UO-featured music makes merry in the background, and a slide show of our historic images will remind us of past events recorded by our volunteer professional image-capturer.
And what a celebratory year, from "Deck the Wall" artwork through the Silver Anthology of creativity in word and pictures, to holiday party acknowledgements and ongoing fantastic programs, we have a lot to celebrate. Members' accomplishments are increasingly featured in media outlets as well, from the national Osher newsletter articles on two of our events to the state "NW 50 plus" on an outstanding presentation, packed audiences for OLLI-sponsored public Conversation Project events and ads on Bijou theater screens, we are raising our profile more broadly. Show you care by continuing to support this stimulating, health-promoting organization by your attendance, donations, and spreading the word to other potential member-friends. See you around!
Susan Walcott, Eugene/Springfield Council President
March 22, 2019
---
Save the Date of April 23: Announcing the 25th Anniversary Gala!
Save the date of Tuesday, April 23, 2019 to celebrate OLLI-UO in Eugene/Springfield's silver anniversary! We will be hosting a very special Gala—a luncheon event from noon to 2:00 p.m. at the UO Ford Alumni Center Ballroom! You will receive an invitation card with details of the already-committed keynote speaker; entertainment; and RSVP instructions via "snail mail" in early March.
We look forward to seeing you at the Gala, a great way to celebrate 25 years of lifelong learning in our community!
February 14, 2019
---
President's Note March 2019
Twelve individuals serve on the OLLI-UO in Eugene-Springfield (ES) Governing Council–but why should they have all the fun?! This is not meant to be, as one member jokingly observed at a New Member Orientation session, a "power elite". On the contrary, this group actively seeks member input and puts in a lot of extra time and effort to enhance your member experience with exciting programs of speakers and discussion topics proposed by a wide range of also active members. Upcoming attractions discussed at the previous Council meeting include the following.
Training classes for maximizing member use of the new online Information Hub will soon be offered by our super-busy ES Program Manager, Todd Gauthier. He is part of a CPE team that has built a new "member portal" on the Hub to make available a password-protected way to check and update your member profile and renew your annual membership, with new features being planned for the future—we'll keep you posted! Also, a front office assistant will soon be trained to handle OLLI-specific issues, expediting information processing.
On the glamourous side, mark your calendar for the 25th Anniversary Gala to be held at Ford Alumni Center (UO campus) at noon on April 23rd. Guest speaker and special guests are already arranged–stay tuned for developments, and a delicious upscale buffet. A half-day "Taste of OLLI" in the early Fall will take the place of the annual Day of Discovery as outreach to the wider community, but members can invite guests to attend our functions a few times, and offer a month "Share the Love" pass to sample our program offerings (except those requiring advance limited enrollment). An example of ideas coming from members: a proposal for OLLI to offer a "Sports and Wellness" themed series of presentations by UO speakers, field trips to facilities, and other activities looking forward to the 2020 national track and field events in Eugene. Want to join in this planning? Have an idea to market OLLI better? An acquaintance to invite? Go for it!
Susan Walcott, Eugene/Springfield Council President
February 14, 2019
---
WiFi Update and Parking Reminders
UO Guest WiFi Service
I am pleased to announce that the login process for the UO Guest WiFi service has been streamlined. Registration is no longer required to access the network. Now, a user that reads-scrolls through the acceptable use policy and clicks/taps the accept button is granted immediate access to the network. To access WiFi while at the Baker Downtown Center (or from any campus location), select "UO Guest" from the list of available networks on your device and open an Internet browser. The network will then prompt you to accept the use policy.
Parking Policies
A word about parking in the south portion of Lot 1D, a.k.a. the "CPE Lot", accessible from 10th Ave. The yellow OLLI-UO hangtags are only valid in this south section and are not valid for the north end of the lot. The two ends of the lot are separated by orange bollards and a speed bump. The north section is designated for UO faculty/staff and is not available to OLLI-UO students. The parking spaces in the alley behind the Baker Downtown Center are also faculty/staff only.
To avoid a parking ticket from UO Transportation Services, please ensure that your vehicle is displaying the yellow hangtag from your rearview mirror, parked "head-in", and is within the lines of the parking space.
Diamond Parking Lot
On days with a busy OLLI-UO schedule, the 37-space "CPE Lot" may fill to capacity. As a courtesy for its students, OLLI-UO purchases a number of 3-hour permits for the section of the Diamond Parking lot located at 10th Ave and High Street. These permits may be requested from the CPE Office in Room 110 of the Baker Downtown Center. They may not be requested in advance, and they may not be used on days with no OLLI-UO programming. The yellow hangtag permits for the CPE Lot are not valid in the Diamond Lot.
If you have any questions or need more information, please feel free to call 541-346-0697 or email osher@uoregon.edu.
February 4, 2019
---
President's Note February 2019
"Sounds like a great program–I would have come if I knew about it!" Why does this happen? Your Eugene/Springfield Program Committee, Governing Council and volunteer presenters work hard to arrange outstanding learning opportunities that you joined OLLI-UO to participate in, and we want to see rooms full of interested faces. Here are some ways that you can always be in the know:
Reading this "President's Note" shows that you are already aware of the major access point for information that you can tell more mystified members about: the Eugene/Springfield Information Hub has loads of tabs for information about course and activity descriptions, activity calendar, shared interest groups, locations and directions, inclement weather, how to suggest a program or course, and donate your time, money, and/or talents to OLLI-UO.
Every member with an email address also receives the regular Friday "OLLI-UO Eugene/Springfield Weekly Reminder" listing upcoming programs and prompts to register for special series or events occurring in the near future.
Paper copies of the monthly calendar are also available in the main office and on the name tag table, if you want basic dates in that tangible format.
A list of the week's events is also posted on the south side entry of the Baker Downtown Center.
A "New Year's Resolution" suggestion: be an informed 'citizen' of OLLI and participate more in 2019, the second half of our Silver Anniversary year!
Susan Walcott, Eugene/Springfield Council President
January 25, 2019
---