OLLI-UO Discussion Forum and Video Conferencing Overview
Zoom Meetings
Zoom is where we have our live interactive presentations and discussions. The Zoom meeting links found in the Basecamp topics will get you into the live meetings. These meetings have proven to be a great way to have engaging conversations and get some face-time with your fellow members. For these meetings to be successful, there are a few things you should know.
Tool Bar
At the bottom of your Zoom window, you will find your Zoom controls. This is another place where you can turn on/off your Mute and Video. This is also where you would open the Participants and Chat side windows.

Display Modes
There are 3 video layouts that you can uses during a meeting: Active Speaker, Gallery, and Mini. When someone is screen sharing, you can use Side-by-Side Mode or view the screen share with Active Speaker or Gallery View.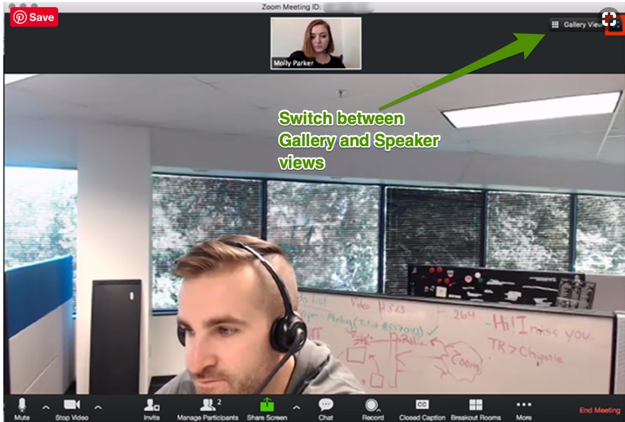 Etiquette
To keep meetings organized and avoid talking over each other, the Host will likely ask that you use the Raise Hand feature. You can find your hand button in the Reactions selections on the toolbar.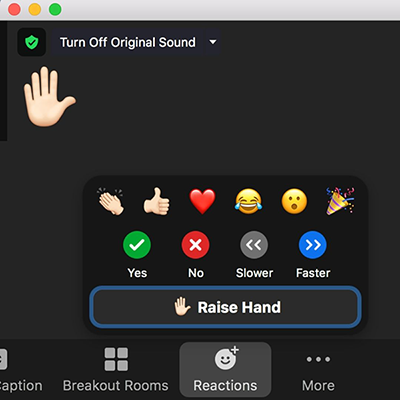 Choose the Raise Hand button
The host will be notified that you've raised your hand.
Choose Lower Hand to lower it if needed
The most common phrase heard in video conferencing is: "Am I muted? Can you hear me?" Followed only by "Is my video on?" To alleviate this being a continual part of the actual discussion, you can use the visual cues on the Zoom screen to verify how you are being received.
It is best to keep the Participants side panel open so that you can see yours and everyone else's status. Next to each person's name there is a microphone and video icon. If your microphone icon is red with a line through it, people can't hear you. If it is not red with a line, then everyone is hearing you just fine. This is also true for the video camera. Red - they can't see you. Not red – your video is on and everyone can see your every move (hint, hint).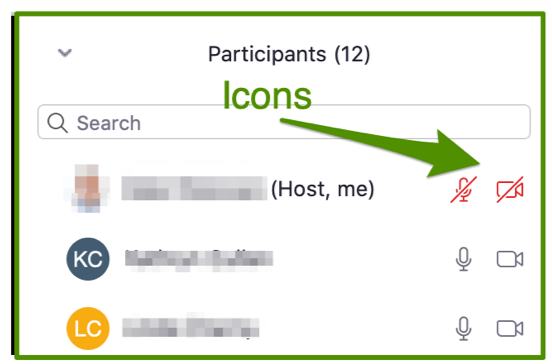 You can also find these same icons on your picture when you are in the grid Gallery View.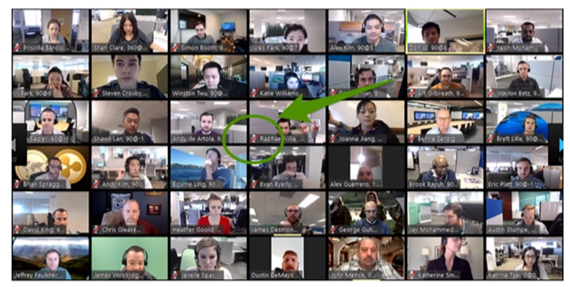 How to Enable Closed Caption
Enable Live Transcript or Closed Caption
If closed captioning or live transcripts are available during a meeting or webinar, you can view these as a participant.
When enabled by the host, you will see a notification above Closed Caption/Live Transcript in the meeting controls, informing you that one of these services is available.
If closed captioning is available, click Closed Caption to start viewing closed captioning. If live transcription is available, click Live Transcript, and then select Show Subtitle.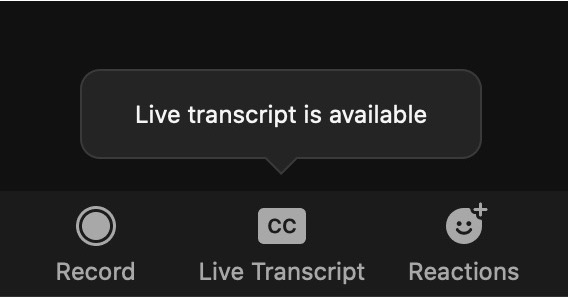 Note: The provided subtitles can be clicked and dragged to move their position in the meeting window.